C'era una volta una montagna, con dentro un castello, con dentro un uomo. L'uomo mise tutto il conflitto e tutta la bellezza del mondo dentro al castello. Come riscatto dal trauma del fascismo, il castellano dedicò la sua vita alla creazione di un cenacolo d'arte, a distanza di un secolo dalla Scuola di pittura di paesaggio di Alfredo De Andrade.
Once upon a time, there was a castle on a mountain, with a man inside. The man placed all the conflict and all the beauty of the world inside the castle. As a redemption from the trauma of fascism, he dedicated his life to the creation of an art cenacle, a century following the landscape painting Movement pioneered by Alfredo de Andrade.
È il 1983 quando Franz Paludetto acquista il Castello di Rivara ai piedi delle Alpi piemontesi. Comincia con lui una stagione di mecenatismo che consacra nuovamente questo luogo come avamposto di sperimentazione di arte contemporanea. Un secolo prima un cenacolo di artisti aveva iniziato una rivoluzione pittorica sul paesaggio dipinto dal vero: da tutta Europa erano giunti per fondare la Scuola di Rivara. Tra questi vi era Alfredo D'Andrade. Il pittore, anche restauratore del castello, divenne in seguito un architetto noto in tutta Europa. Alla ricerca dei disegni dell'architetto portoghese, una giovane artista scopre la dimensione privata di questo spazio ormai diventato museo.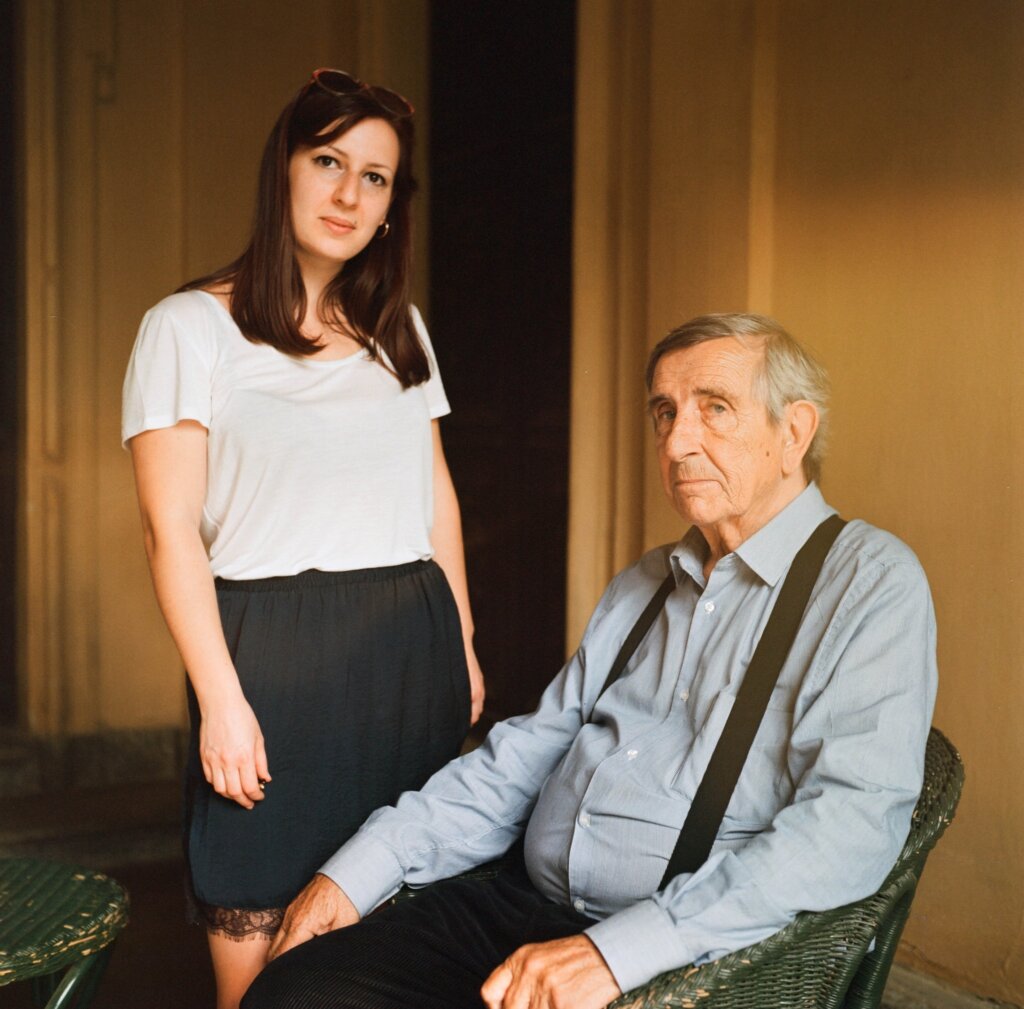 It was 1983 when Franz Paludetto bought the Rivara Castle at the foot of the Piedmont Alps. With him began a season of patronage that once again consecrated this place as an outpost for experimentation in contemporary art. A century earlier a coterie of artists had begun a pictorial revolution on landscape painting, based on real life: from all over Europe they had come to found the Rivara School. Among them was Alfredo D'Andrade. The Portuguese painter, also a restorer of the castle, later became an architect known throughout Europe. In search of his drawings, a young artist discovered the private dimension of that space, which has now become an expanded museum.
In questo luogo sospeso nel binomio bellezza-decadenza, la ragazza conosce Franz, l'attuale castellano, e lo spinge a imprimere sulla pellicola le sue memorie. Mentre sono evocate le grandi imprese dell'Italia del secondo Novecento, emerge anche una confessione intima: da quando, nel dopoguerra, il Paese si apre a nuove prospettive sociali, Franz decide di dedicare tutta la sua esistenza alla ricerca della bellezza come riscatto dal trauma del fascismo. Nel corso di un racconto lungo un decennio si vede la giovane crescere, mentre il gallerista, che si impossessa dei suoi ricordi, si avvicina alla morte.
In this place suspended in the combination of beauty-decadence, the girl meets Franz, the current castellan, and urges him to imprint her memories on film. While the great achievements of Italy in the second half of the 20th century are evoked, an intimate confession also emerges: since the country had opened up to new social perspectives after the war, Franz had decided to devote his entire existence to the pursuit of beauty as redemption from the trauma of fascism. Over the course of a decade-long narrative, we see the young woman grow up as the gallery owner, who takes over her memories, approaches death.
CREDITS
with FRANZ PALUDETTO
written and directed by ALESSANDRA LANCELLOTTI
produced by STEFANO MIGLIORE, JOÃO PEDRO AMORIM
executive producer DAVIDE PALUDETTO
artistic supervision ENRICO MASI
cinematography, sound ALESSANDRA LANCELLOTTI, ENRICO MASI
editing ENRICO MASI, CARLOTTA GUARALDO
composer HÉCTOR CAVALLARO
musicians HÉCTOR CAVALLARO, LAURA LORIGA, NICOLA NEGRINI
and the special contribution by DANIELA PES
mixage JACOPO BONORA
color grading DANILO MONTE
assistant director TECLA CHIOMIO
production assistant ALICE SOLINAS
graphic design LUDOVICA SECHI, VIRGINIA SELLARI, TOMAS RIGONI
production CAUCASO e TEMPESTADE
in collaboration with ARCHIVIO NAZIONALE CINEMA D'IMPRESA e CASTELLO DI RIVARA
with the support of FILM COMMISSION TORINO PIEMONTE – DOC FILM FUND
international distribution ANT!DOTE SALES
with the participation of ATLANTIS – IL MONDO SOMMERSO DEGLI ARCHIVI, ACCADEMIA ALBERTINA DI BELLE ARTI DI TORINO, ACCADEMIA LIGUSTICA DI BELLE ARTI DI GENOVA, COMUNE DI GENOVA – GALLERIA D'ARTE MODERNA, ARCHI
SCREENINGS
October, 24th 2023
21° DocLisboa – world premiere – Lisboa, Portugal